The Casino Cultural and Conference Centre
Reitenbergerova 95/4
353 29 Mariánské Lázně
Czech Republic
Casino Cultural and Conference Centre
The Casino Cultural and Conference Centre was built in 1899 – 1901 in the Italian New Renaissance style. Various social events and balls have taken place in this very location since its origin. It reached its peak in 1946, when the 1st International Film Festiva
l, today known as the Karlovy Vary Film Festival, was organised here. The Casino today is used for concerts, especially for spa guests, graduations and other balls, lectures, exhibitions and fashion shows. Among other events, the Casino's premises are often used for conferences and conventions. Every year, the opening and final concert of the Chopin Festival in Mariánské Lázně, with the participation of top conductors and musicians from all over the world, takes place here. The Casino has three lecture halls: Marble Hall, Red Hall and Mirror Hall.
Accommodation in Mariánské Lázně
We have pre-booked for you the following six hotels showcased below. All of them except for hotel Hvězda are conveniently connected with the conference venue (Casino), and all rates include free entry to the pools, saunas and whirlpools in the booked hotel). For their booking please use this link:
https://www.danubiushotels.com/en/destinations/marienbad
Choose your hotel, date of arrival 29 September 2019, date of departure 4 October 2019, then click "Book now" and you will get the IPS 2019 special price including a 10% discount from the below stated list prices. Please do not hesitate, the capacity is limited.
We would like to expressly state that we have no agreements with any travel agencies and we have not organized any travel agencies to call you and offer you hotel accommodation.
Hotel Nové Lázně *****   FULLY BOOKED!

| | | |
| --- | --- | --- |
|  Single room superior with breakfast | 3620 Kč | 145 EUR |
|  Double room (2 pers.) superior with breakfast | 5360 Kč | 214 EUR |
Hotel Maria Spa **** FULLY BOOKED!
| | | |
| --- | --- | --- |
|  Single room superior with breakfast | 3460 Kč | 138 EUR |
|  Double room (2 pers.) superior with breakfast | 5040 Kč | 202 EUR |
Centrální Lázně  ****   FULLY BOOKED!
| | | |
| --- | --- | --- |
|  Single room superior with breakfast | 2970 Kč | 119 EUR |
|  Double room (2 pers.) superior with breakfast | 4140 Kč | 166 EUR |
Hotel Imperial ****
| | | |
| --- | --- | --- |
|  Single room superior with breakfast | 2970 Kč | 119 EUR |
|  Double room (2 pers.) superior with breakfast | 4140 Kč | 166 EUR |
Hotel Pacifik ****   FULLY BOOKED!
| | | |
| --- | --- | --- |
|  Single room superior with breakfast | 2860 Kč | 114 EUR |
|  Double room (2 pers.) superior with breakfast | 3920 Kč | 157 EUR |
Hotel Butterfly  **** FULLY BOOKED!
| | | |
| --- | --- | --- |
| Single room superior with breakfast | 2640 Kč | 106 EUR |
| Double room (2 pers.) superior with breakfast | 3480 Kč | 139 EUR |
History of Marianske Lazne
Mariánské Lázně is a relatively young spa town, developed at the beginning of the 19th century in a valley where several excellent healing streams spring from the ground, though its inhabitants were aware of the springs as early as the 1200s. In 1528, King Ferdinand ordered these springs to be examined for salt content. In 1805–1807, Dr. Johann Josef Nehr founded the first brick house for spa guests near the Cross Spring (Křížový) called 'The Golden Globe', built on the site of a former wooden cabin. In 1812 it arises municipality of Marianske Lazne from the decision of Karel Kašpar Reitenberger (abbot of Teplá Premonstrate Monastery). Numerous cultural, scientific and political personalities came from all over the world to visit Mariánské Lázně, notably Johann Wolfgang Goethe, Prince Friedrich of Saxony, Fryrderyk Chopin, Earl Kašpar Šternberk, Joens Jakob Berzelius, Václav Jan Tomášek, and Marie Szymanowsky. In 1865, Mariánské Lázně was declared a city by Franz Joseph I. The spa life remained active through the first half of the 20th century. Famous people were still drawn to Mariánské Lázně, such as Tomáš Garrigue Masaryk and Edvard Beneš.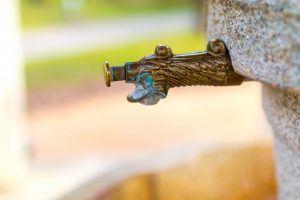 The differing chemical composition of the town's numerous springs makes it the perfect place to treat a wide variety of ailments. The large variety of local springs are the foundation resource for the many spa treatments available. In the local nature surrounding the town, there are 100 springs that emerge and within the town itself there are 40 springs that rise naturally. Various springs are now sheltered by pavilions and colonnades that have been built over them during the years, all of which help create the town's picturesque spa atmosphere.
Springs from Marianske Lazne are used in the treatment of:
• Disorders of the kidneys and of the urinary tract
• Respiratory disorders
• Locomotive system disorders
• Metabolic disorders
• Gynaecological disorders including sterility
• Oncological disorders
The Singing Fountain is the most popular tourist attraction in Mariánské Lázně. The circular stone fountain, decorated with a 12-piece stone sculpture representing a flower and equipped with more than 250 jets, can be found at the colonnade in the centre of the spa zone. It is definitely worth seeing as it offers a remarkable spectacle of water jets sophisticatedly choreographed to popular compositions of both classical and modern music. The Singing Fountain (designed by Pavel Mikšík) first entertained visitors on 30 April 1986. The program of the Singing Fountain includes 10 compositions, which are performed in regular order. Each composition is performed every odd hour. Visitors may admire the breathtaking shows, which are augmented by magnificent light effects after dark.
Kynžvart Chateau
Come and take a look at a place visited by Goethe and the Russian tsars. Lord Byron's amulet, Marie Antoinette's prayer book, Alexander Dumas' desk or an un-smoked cigarette of Emperor Napoleon III are all to be seen in the extensive collection of curiosities, which the Austrian Chancellor Klemens von Metternich gathered at his chateau. Despite the fact that he was unpopular and feared in the Czech lands and lived most of his life in Vienna, he did love his summer residence in the spa region of West Bohemia. He borrowed a staggering amount from the banker Rothschild to repair it and instead of repaying the money, elevated Rothschild's children to the peerage.
TRAVEL
In the case of emergency you can call the organizing team at  00420 731 051 358
Main distances
Vaclav Havel Prague: 170 km
Munchen airport: 382 km
Transfer to the Casino venue by buses from Prague will be provided by the organizers as follows:
Bus transport to Mariánské Lázně 
Sunday, 29 September 2019
departure point: IOCB
Flemingovo náměstí 2
160 00 Prague
Time of the departure:  2 PM and 3 PM
Transport from the airport to the IOCB
The simplest way is taking a taxi (the price should not exceed 600 CZK - approx. 25 EUR) or an Uber (cheaper).
Or you can use public transport. At Vaclav Havel Airport, exit the arrivals hall (Terminals 1 and 2) to find the bus stop. Take bus No. 119 to Nádraží Veleslavín, then change to Metro (tube, underground), line A/green, to the station Dejvická. Ticket price for this journey will be 32 CZK. Tickets are available in newspaper stand at Airport Arrival Hall, or in vending machines at bus stops, and should be available also in the bus (with additional charge). Do not forget to validate your ticket after getting on. The whole journey takes 32 minutes. Bus and Metro operate between 04 - 24 h daily, and time intervals between connections range between 10 - 20 min. After getting off at the Dejvická station please follow the map  and walk to IOCB for about 5 min.
Bus transport back to Prague:
Friday, 4 October 2019
Departure point: in front of the Casino
Time of the departure: 6 AM, 8 AM, 9 AM
By public transport from the Prague Airport
The easiest way is to go to the Hlavní nádraží train station using the Airport Express bus from the airport, and take a direct train to Mariánské Lázně (takes approximately 2.5 h).
By car from the Prague Airport
Václav Havel Airport Prague
Aviatická, 161 08 Praha 6
Continue to D0
min (2.8 km)
Follow D5/E50 to Route 26 in Ejpovice. Take exit 67 from D5/E50
39 min (72.8 km)
Continue on Route 26. Take U Velkého rybníka to Studentská in Plzeň 1, Plzeň
14 min (11.7 km)
Follow Route 20 to Route 19818 in Toužim
32 min (43.3 km)
Take Route 198, Route 210 and Route 230 to Masarykova in Mariánské Lázně
36 min (32.7 km)
Masarykova 22/5
353 01 Mariánské Lázně